Planning to reopen your business post Covid-19.
So as we are now exiting lock-down many companies are looking to either ramp up operations or even completely restart after a total lock-down. This can be a daunting prospect after a Christmas shutdown never mind a 3-month lock-down. With social distancing etc things are unlikely to return to normal for a long time. However, like anything in business the trick to a successful return to full operations is planning.
The first trick to planning is to make a list of all the things you need to consider. These will vary from industry to industry and from company to company. But a few generic headlines will help you organise your thoughts and begin to put together a plan. Add or extract from this list as you see fit for your company. But hopefully this will get you thinking.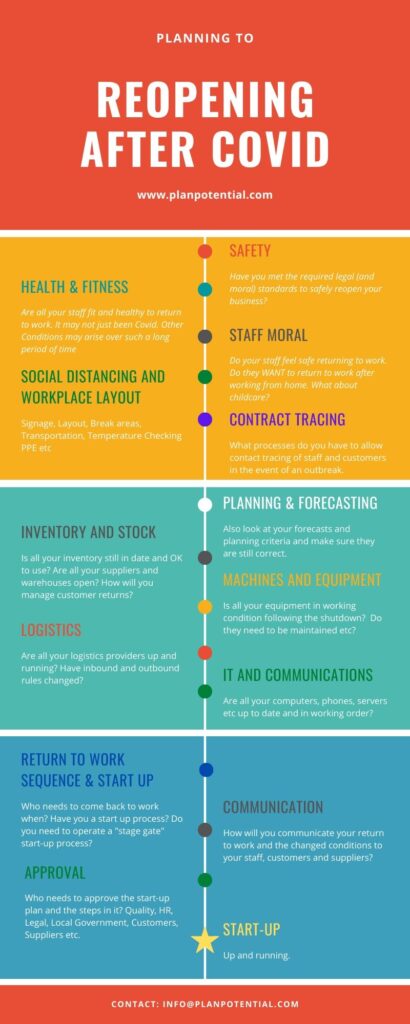 Safety:
Have you met the required legal (and moral) standards to safely reopen your business? Even if you think they are over the top they are required and a disgruntled customer or staff member could report you to inspectors. Or worse still media coverage could damage the reputation of your business. And regardless of all that morally you should provide a safe environment for your staff and customers.
Health and Fitness

Have any of your staff been ill with Covid? Are they all fit and certified to return to work?
Are there other conditions that may have arisen in the past 3 months that need to be addressed?
Do you need to do a return to work interview with all employees to make sure everything is captured?
Staff Moral
Do your staff consider it safe to return to work? How do you convince them that it is?
Do they think working from home is a better option? Is it a better option? Are you likely to lose staff if you don't allow it? What are your objections to it and are they really valid?
If someone refuses to return to work what procedures have you in place to deal with it in compliance with company procedures and legal requirements?
Is childcare going to be an issue for staff? If they need extra flexibility due to the fact that childcare (be that creches or schools) are not currently fully functional can you provide that? Do you really want to make a valuable staff member choose between their children and you?
Social Distancing and Workplace layout
Have you adjusted the layout of your facility to allow a safe return to work? If you have is it clearly signposted. I have been in several workplaces recently where signs existed but were not clear enough to communicate the message. The person who designed the system may not be the best person to test if the signs clearly communicate what to do.
Have your staff been trained in how to deal with customers who may not understand your new layout? A smile and pleasant demeanor will go a long way with the customer. But a shouted aggressive tone could do a lot of damage to your customer's opinion of your business.
How are you going to manage breaks and meals? Are your canteen and toilet facilities still fit for purpose? If meals are served how will the queue system work. How many people per table?
Do you provide a bus service for your staff to get to work? How will that work? Do you need to provide extra buses?
Have you the PPE you need to restart? Do you have enough? How do you know? Can that be replenished when it is all used up? What happens if it runs out? Do you shut down until you get more?
Are you going to use temperature checking as people enter the building? How will this work? How will the queue work? What happens if some fails the check? How do you quarantine them? Who will staff the checking process?
Contact Tracing
What processes do you have to allow contact tracing of staff and customers in the event of an outbreak in your workplace?
Once you have that contact list what policies do you have to communicate with people? Will you rely on state provided contact tracing services or should you contact people directly?
What policies do you have in place to deal with someone who has been notified that they were in contact with an infected person but are showing no symptoms themselves.
Planning and forecasting
You may have had zero sales for the last 3 months. How will your forecasting system adapt to that? Do you need to manually forecast for a period of time? What rules and guidelines will be applied?
Have supplier lead-times and other planning factors changed for purchased items? Do you need to update this data in your planning system?
Have customer orders continued to come in and have you a plan to clear that backlog and communicate updated delivery dates to customers?
Inventory and stock
Is all your stock of raw material and finished goods still OK to use? Has any expired? Does it need to be inspected or tested before use?
Are all your suppliers up and running? Can they still supply you?
Are all your warehouses operational?
How do you manage stock that may have been handled by customers or returned after purchase? Do you need to clean these items?
Are all the consumables you need available (printer paper, ink, etc)?
Machines and Equipment
Is all your equipment in working condition following the shutdown? Do they need to be maintained, lubricated, cleaned etc? Are there any new leaks, corrosion etc?
Could damage have occurred while no one was on site? Were there storms that may have damaged external buildings etc and no one noticed?
Has any equipment potentially gone out of warranty during the shutdown because required scheduled maintenance etc was not carried out? Do you need to contact suppliers to resolve this?
Was there work planned and scheduled that did not happen during the shutdown and now needs to be build into the production plan.
Is all the equipment still rated as safe to operate?
Logistics
Are all your logistics providers up and running? Can they deliver to you? Can they pick up from you and deliver to your customer?
Are there international trade changes that you need to factor in? Can you still ship to all countries?
What new rules are in place for deliveries to your site?
Have customers communicated new delivery rules and requirements and have you implemented these?
IT and communications
Have there been critical updates released for your computers, phones etc? How do you make sure they are all updated in advance of start-up so that you don't end up with half the organisation sitting around looking at an "Update Installing" screen on the first morning?
Are all your Anti-virus software etc up to date.
Have any licences expired for essential software during the shutdown and need to be renewed before staff can use the software?
Return to work sequence & start up process
Who needs to come back to work when? Do you need everyone back at the same time? Or do you need certain people back first to get the operations up and running for everyone else.
Have you a start up process? Does it cover all potential issues following such a long shutdown?
Do you need to operate a "stage gate" start-up process similar to a quality or new product stage gate process. If the start-up fails a certain step do you press on or do you delay the start-up.
Communication
How will you communicate the start-up plan and new working environment to your staff? Do you need to do a new "on-boarding" process for everyone as they come back?
How will you communicate the start up plan to suppliers and contractors?
How will you communicate the start-up plan to customers? Can they expect the same level of service or will things change? Do you treat all customers equally or are there key customers that need special communication and accommodation?

Approval
Who needs to approve the start-up plan and the steps in it? Quality, HR, Legal, Local Government, Customers, Suppliers etc.
So these are some topics to get you started. Feel free to add or subtract to suit your business. But remember it is important to do this planning process in reopening your business.